OUR PRODUCTS
OUR PRODUCTS
SnS crystals (Tin sulfide)
SnS crystals (Tin sulfide)
Product Description
Tin sulfide (SnS) is a layered monochalcogenide semiconductor crystallizing in orthorhombic phase. The layers of cations are separated only by van der Waals (vdW) forces that provide intrinsically chemically inert surface without dangling bonds and surface density of states. Theoretical predictions show that SnS band gap values span from 1.4 eV to 1.9 eV from bulk to monolayer. SnS layers exhibit high in-plane anisotropy and high carrier mobility reaching as high as tens of thousands of cm2V–1s–1 which is superior to that of black phosphorus [1]. Their potential uses include photovoltaics, high electron mobility transistors, and catalytic energy conversion technologies. Our SnS crystal exhibit 99.9999% guaranteed purity, low defect concentration (<1E9cm-2), and high crystallinity. SnS crystals are grown either through flux vapor transport (flux method) or Bridgman technique.
Bridgman vs Flux zone: While both growth techniques produce superior quality materials, we recommend Bridgman grown materials as they exhibit higher electronic mobility, larger single-crystal domain size, and lower defect concentrations. Bridgman grown samples measure 8-10mm in size. In contrast flux zone grown samples are larger in size >1 cm much higher quality compared to chemical vapor transport (commonly used method by our vendors) but exhibit higher defect concentrations (~1E10-1E11 cm-2) compared to Bridgman grown samples. Chemical vapor transport grown samples are strongly discouraged as they contain substantial amount of halide and point defects, as well as unwanted amorphous minority phases.
Characteristics of vdW SnS crystals

Growth method matters> Flux zone or CVT growth method? Contamination of halides and point defects in layered crystals are well known cause for their reduced electronic mobility, reduced anisotropic response, poor e-h recombination, low-PL emission, and lower optical absorption. Flux zone technique is a halide free technique used for synthesizing truly semiconductor grade vdW crystals. This method distinguishes itself from chemical vapor transport (CVT) technique in the following regard: CVT is a quick (~2 weeks) growth method but exhibits poor crystalline quality and the defect concentration reaches to 1E11 to 1E12 cm-2 range. In contrast, flux method takes long (~3 months) growth time, but ensures slow crystallization for perfect atomic structuring, and impurity free crystal growth with defect concentration as low as 1E9 - 1E10 cm-2. During check out just state which type of growth process is preferred. Unless otherwise stated, 2Dsemiconductors ships Flux zone crystals as a default choice.
Raman spectrum collected from SnS vdW crystals
Selective area electron diffraction (SAED) data taken from SnS vdW crystals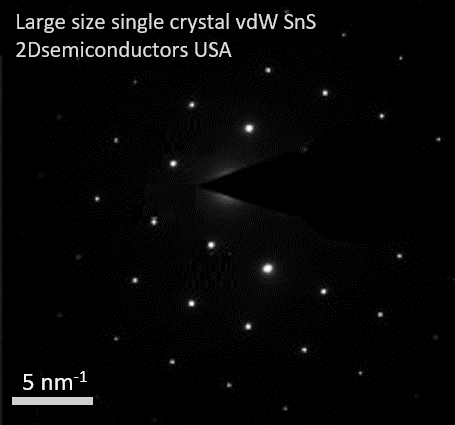 EDS spectrum collected from SnS vdW single crystals
References
[1] C. Xin et.al. J. Phys. Chem. C, 2016, 120 (39), pp 22663–22669
Find Similar Products by Tag
Product Reviews
Find Similar Products by Category
Customers also viewed